For those with more money than time, simply choosing the right vacation can create a pit of stress. Fortunately, a new Vancouver-based company has been launched specifically to fill it. Nick Gudewill and Cory Matheson have launched Exposure, an outfitter designed to cater to the adventurous wealthy elite, a market popularly known as glamping (for glamorous camping). Certainly, spending upwards of $60,000 a week on vacation is not for the average family, and that's where Exposure come in. "Our clients don't have to worry about anything," says Gudewill, "they pay one price, and everything is taken care of."

Born and raised in Vancouver, 29-year olds Gudewill and Matheson only met during a work stint in New York, where they were working in marketing and finance. Canucks tend to stick together, and meeting in the bars of Manhattan, the two realized they had much in common. Both loved B.C, and wanted to apply their Madison Avenue and Wall Street business skills to something they felt passionate about. "Whenever we came back from New York, we would bring friends from back east who would be mind blown from what they saw…the boating, the fishing, the wildlife," says Gudewill. Having grown up with summer cottages, sailing amongst the Gulf Islands, they realized that introducing the region to a luxury clientele held much promise. Numerous business plans and much research later, Exposure was launched in late 2007. The company currently offers nine customizable itineraries, from grizzly bear watching and golf tours to scuba diving with six-gill sharks off Hornby Island. To get a glimpse into what their customers might expect, I joined them aboard one of their signature trips, a few days sailing on the 400 ton, 115ft Pacific Yellowfin.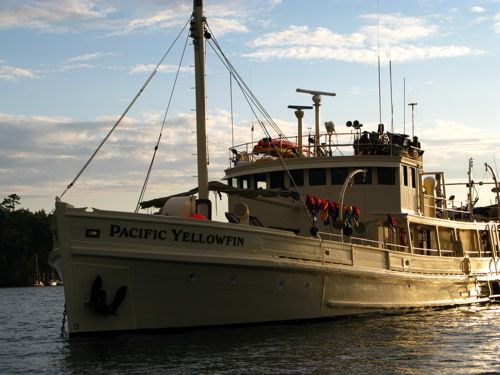 A fully refurbished ex-US military expedition yacht, the Pacific Yellowfin comes with a hefty price tag: Try $55,000 for a weeklong charter, or around $9000 a day. For that, a minimum of 8 clients can expect to be treated like rock stars, which might explain why recent guests include members of the rock band Pearl Jam. Four staterooms glisten with polished mahogany, in stark contrast to the functional outward appearance of the vessel. Private chef Catherine Cafiti, who heads the kitchen of one of Whistler's top restaurants in the off-season, prepares B.C-based dishes that have wowed both guests and food critics. No wonder a culinary cruise starts at around $16,000 for three days, with everything from fine B.C wines to sword-opened champagne included. The diesel powered Yellowfin also comes with a wealth of toys, including speedboats, mountain bikes, kayaks, scooters, a jet ski, fishing, and a well stocked CD, book and DVD library. Onshore excursions are encouraged, and five-star picnics greet the end of hikes, rides and paddles. According to Nick and Cory, the aim is for guests to relax and forget about the outside world, and if they can't, well, each clock on board is set to a different time to help. Whether it's sailing amongst whales in Desolation Sound, or anchoring in a quiet Saturna Island bay, it's hard to remain stressed about anything when "snacks" include rare sesame ahi tuna and Caesars with freshly grated horseradish. The crew are young, enthusiastic, and eager to help. "If you feel like a grilled cheese sandwich at 2am, just call Catherine with the walkie-talkie," explains Nick. When I asked her if anyone had ever taken her up on the offer, she shakes her head, but makes it clear it wouldn't be a problem if they did.

Since most BC residents don't need a 400-ton yacht to see the Gulf Islands, Exposure is targeting clients from the US, eastern Canada and abroad. The boom in corporate incentive travel fits nicely into their plans too. "There are people and companies out there with a lot of money and few ideas, and everyone is looking for an authentic experience," explains Matheson. With plans this winter to turn the Pacific Yellowfin into a floating ski-lodge, complete with an attached helipad for heli-skiing in Whistler, anyone looking for B.C at its best need look no further. Anyone that is, with deep pockets.

For more information about Exposure and their signature trips, visit: exposure.travel
This article was published in the Vancouver Sun.

< back to the episode
< back to the list of articles