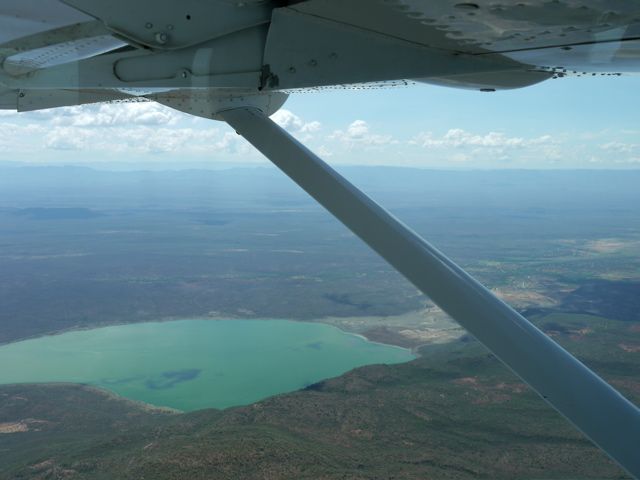 Now:
From the window of the Cessna Caravan, I can see the red soil of East Africa bleeding. Cracks in the Great Rift Valley run like veins across the barren land, crumbling under the weight of one of the worst droughts in decades. Small circular settlements lie below, thatch huts surrounded by rings of scrub, isolated from tracks or roads. The plane is rattling with turbulence, wings shaking, rollercoaster dips. A lake appears, reflecting the sun, and even from 7000ft I can see orbs on its riverbanks, the bulk of hippos. We bank left, and descend suddenly onto bracken, dirt runway. There will be time to admire hippos and crocs later. It's time for the Flying Doctors to get to work.
Earlier:
They looked like long, dented tin cigar holders. When the first one rolled by, standing in the hallways of Kenyatta General Hospital in Nairobi, I thought it might be food prepared from the kitchen. It couldn't be…. could it? The second confirmed it, and the third, with the unmistakable shape of feet discernible just inside the lid, cast any doubt. Dead bodies, wheeled along between patients, visitors, and a TV crew. The hospital smelled like a moral stain, an overcrowded urban nightmare, a rose made of rusty blades. Upstairs, I had just been introduced to Lopotunye, a 14-year old boy who had survived a tribal massacre, walking 10km with a bullet wound to the shoulder, and his jaw blown off by an AK-47. His parents were not so lucky. The Flying Doctors had rescued him, saved his life. This was a routine follow up, a personal visit in a clinical system. I shook the boy's hand, looked into his eyes, and felt his courage, his confusion, his sadness, his hope. This is Africa, and his future is Africa's future.
Later:
The alarm goes off at 5am, time to get up for a sunrise safari in Masai Mara National Park. From my luxury four-poster bed, inside my five star opulent tent, I can see a dull flashlight of morning sun over the savannah, and make out dozens of grazing wildebeest, sprinkled like poppy seeds on the top of a toasted bagel. The animals have survived a tense night amidst their predators, and will now continue their great migration south to the Serengeti, across the border into Tanzania. For a brief part of their journey, I'll follow them, secure in the back of a Land Rover, clutching a delicate Pimms cocktail, stuffed on some of the best food I've tasted anywhere in the world. I'm living the safari cliche in the wildest possible style imaginable: a butler, a chef, an infinity swimming pool overflowing into the veld, metres away from huge buffalo, a string of elephants in the distance. This is Africa too, the Africa of dreams.
It's been too long to be away from Africa. Even though I'm thousands of miles from my birthplace in South Africa, I'm still homesick. There's MNET on TV, Steers and Woolworths at the local mall, names that probably mean little to you, but these are the South African brands – TV stations, burger joints, a clothing store – that cradled my upbringing. Nairobi felt just like Johannesburg, or Bloemfontein, or any other dry South African city with horrendous traffic, and well overdue for a spring clean. Speaking to locals, I hear a familiar tune: the crime is horrendous, the corruption ridiculous, the economy stagnant, and…and it's the best place to live. It doesn't make sense, but than neither does Africa. Blessed with unmatched natural resources, an overabundance of labour, a growing middle class. Looted by colonial powers over centuries, scarred by tribal warfare, disastrous autocratic leadership. Africa, forever tarred as the Dark Continent, scares the crap out of people in the developed countries, who seem content to write it all off as a safari wonderland surrounded by AIDS, violence and babies beset by flies. And yet anyone who has every visited Mother Africa will tell you of the strange way she pulls you to her bosom. Something in her red earth, that connects to millions of years of evolution still evident in our DNA. Something about her people, capable of such incredible acts of horror, but capable of such incredible acts of hope. Her music, her hot sun, her beauties and her beasts. It is my first time in Kenya, although I have been to Ethiopia in the north, and Tanzania in the south. I've got one week and an extraordinary opportunity to give my readers, and viewers of Word Travels, a taste of all this, a difficult challenge at the best of times. I've visited 11 countries in the past 5 months alone, and fatigue is setting in. Can't I just sit back on safari, slurp Chef Joseph's incredible chili-lime soup, toast the savannah at sunset?
My published travel writing typically focuses on adventurous activities and sweeping landscapes. The World's Best Beaches, or The World's Highest Bungee Jump, or The Magic of Laos But there's another side of the coin in any country, and to get a good look at Kenya's, I needed to look at it from above. This I managed to do, through the window of a small plane, and the eyes of the Flying Doctors.
The African Medical and Research Foundation (AMREF) Flying Doctors is the largest air ambulance service on the continent, operating a fleet of aircraft equipped with medical systems, and capable of evacuating or transporting patients around Africa and beyond. As the for-profit arm of an NGO, its business model is best described as Robin Hood, with wings. Generating income from third-party insurance companies and private membership fees, it uses these funds to support vital community outreach programs, charity evacuation services, and volunteer medical programs. While the Flying Doctors has received extensive coverage in media, and was even the subject of a film in the 1960's directed by Werner Herzog, I first heard about it when I met Scott Griffin on his book tour to Vancouver. A former CEO and chairman of large manufacturing companies, Griffin and his wife flew by Cessna to Nairobi, where he volunteered his small plane and time to shepherd doctors into the most remote parts of East Africa. His book, My Heart is Africa, recounts their story, and over dinner with friends in Vancouver I was fortunate to hear some of them first hand. Pilots landing on tiny airstrips, doctors treating patients under the shade of a wing, a mix of wealthy tourists needing evacuation to private hospitals and tribes who have no access to medical attention whatsoever. I contacted the organization, and arranged to bring the crew along to Wilson Airport in Nairobi to discover more. If only I had arrived a day earlier.
Click here to continue reading

< back to the episode
< back to the list of articles